Lenders now must justify loan terms
Posted:
Updated: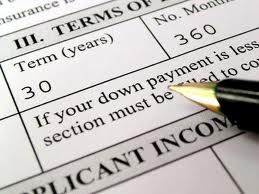 Borrowers who wonder if they're being offered the best available rate on a mortgage are now supposed to be informed by their lender if they're receiving less favorable terms than other borrowers, based on their credit.
A new rule, which took effect Jan. 1, requires lenders to provide this and other explanations of credit terms to consumers who apply for various types of credit, including mortgages, auto loans and others types of credit. The Federal Reserve, which along with the Federal Trade Commission required the new rules, has published a one-page online guide to help consumers understand the new notices.
Under the new rules, consumers who apply for credit may receive one of three disclosures: a Credit Score Notice, a Risk-Based Pricing Notice or an Account Review Notice. The notice they Receive is determined by their individual circumstances.
Many consumers will simply receive a Credit Score Notice shortly after applying for credit. This notice will provide their credit score and an indication of how your score compares to other consumers. The credit-rating agency providing the score will also be indicated. If a consumer has no credit score, they will receive a notice telling them which rating agency has no score for them.
Others borrowers may receive a Risk-Based Pricing Notice, which is provided to consumers who are being offered credit on less-favorable terms than offered to other borrowers, based on information in their credit report. Consumers might receive this if there is negative information in their credit report or if they are being offered an annual percentage rate (APR) higher than being offered to other borrowers.
The Risk-Based Pricing Notice will not include a credit score, but will provide information on how consumers may obtain a free credit report from the credit bureau involved and dispute any inaccurate information it may contain.
Consumers who have their interest rate increased on an existing account may receive an Account Review Notice if the increase is based on changes in their credit report. The notice would indicate what type of information led to the increase, as well as information on how to obtain a free credit report and dispute any inaccuracies.
Something to note about the score provided in the Credit Score Notice: Consumers should not assume the score provided is a FICO score, the predominant credit rating system. A number of similar credit rating systems have been rolled out in recent years, including the VantageScore system developed by the three major credit rating companies, and scores from different systems are not equivalent.
The Credit Score Notice will not necessarily indicate which system was used, but will indicate the range of scores used by the system the consumer's score is based on. The FICO system used a range of 300-850, while the VantageScore system uses a range from 500-990. So while a FICO score of 750 indicates very good credit, it's only a middling score on the VantageScore system.
The online guide, which include links to related documents and to a general explanation of credit scores and reports, is available at www.federalreserve.gov/consumerinfo/wyntk_notices.htm.