EV School District wants new elementary school
Posted:
Updated: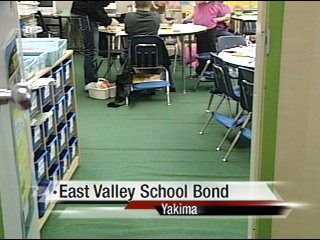 YAKIMA, Wash. -- The East Valley School District is asking voters to approve a bond issue in the upcoming Special Election.
KNDO spoke with Bob Adamson, principal for Terrace Heights Elementary, Wednesday, as he explained why they needed a new school.
Adamson pointed out the many challenges the elementary school is facing. These issues include cracks in the walls and floors, worn out carpeting, and even water damage in the classrooms.
"We have electrical challenges and structural challenges. We have very big heating and air conditioning challenges," Adamson said.
These are similar issues to what many of the school districts in Yakima County are facing, with the older schools.
The $5.9 million East Valley School bond would replace the 68 year old building.
School superintendent John Schieche says they'll use leftover money from a previously approved bond, but say that's still not enough to pay for the new building. "It just doesn't make sense to use the $3.7 million to put a 'band-aid' on it, knowing that we'd have to come back in a number of years and ask our voters for more money to build a new school."
If the East Valley School bond is approved, Schieche says taxpayers with property valued at $100,000 would pay about $21 per year.
"The bond would be used to build a brand new school, and provide opportunities for kids that we can't provide today in this old school," Schieche said.
Adamson says construction would begin as early as 2012. He says students would move over to the old Moxee Elementary School during the construction phase.
To read more about the EV School District Bond, click on the following link http://www.evsd90.org/.