Flooding continues for Benton County
Posted:
Updated: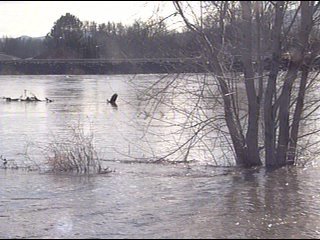 BENTON COUNTY, Wash. - Flooding continues in Benton County. The National Weather Service says the flooding is as high as it's going to get cresting at about 14.7 feet. This year's flood is about a foot short of the big flood in January 2009 which crested at 15.5 feet.
The flood has even caused several streets closures, leaving some homeowners stranded. In Benton City, the Beach RV Park had about 20 residents pick-up and relocate. "They thought they'd sit here and wait for the water, then when the water came up underneath their trailer they decided it was time to get out. So at 2 o'clock this morning there they were, rushing to get out," said Gloria Black, manager of the RV park.
The West Richland Golf Course is no different. In fact, all 18 of their holes are covered in water and it could take over a week for golfers to get back on the green. "Most of the year it happens for half of the golf course, you know the back 9, but this year has been pretty bad. So we have the whole course closed," said Oscar Contreras, who's in charge of maintenance on the course.
He adds that floods like this are not cheap and it could cause thousands of dollars of damage. That includes repairs, labor and lack of business. "We are going to wait for the river to recede and after that we are going to begin cleaning the debris and you know the water, garbage, all that stuff," said Contreras.
The river is expected to fall below flood stage by Friday morning. Sandbags are still available if needed.