Yakima leaders push for anti-gang bill
Posted:
Updated: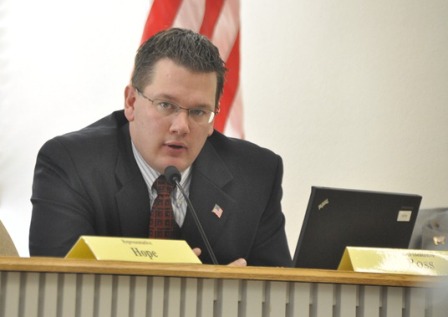 Rep. Charles Ross, R-Naches. Photo courtesy of Washington House of Representative
YAKIMA, Wash. -- Yakima leaders testified Wednesday before the House Public Safety and Emergency Preparedness Committee in regards to anti-gang legislation.
Attorney General Rob McKenna proposed the anti-gang bill as part of his efforts to help law enforcement combat violent gang activity in Washington state.
House Bill 1126, sponsored by Rep. Charles Ross, R- Naches, would enhance sentencing for criminal gang behavior; create a grant program for gang prevention and intervention; authorize action to address a pattern of gang-related activity within properties and buildings; and provide protection orders by local authorities against an identified gang member.
"The Yakima Valley communities I represent are sick of the violence, they are ready for their Legislature to take action right now," Ross said. "I'm going to work hard to make the case for this legislation so government can serve its duty - protecting the public."
Civil rights groups who testified against the bill expressed concerns racial profiling may increase if the bill is passed.
"The goal of this legislation is to specifically target those who are proven gang members - regardless of race, class or clothing - who have committed crimes and belong to a proven criminal street gang," Ross said. "A member of a gang is not identified by their looks, but by their record and proven actions."
Joining Ross in Olympia to testify were Yakima County Commissioner Kevin Bouchey, Sheriff Ken Irwin, Police Gang Unit Sergeant Eric Hildebrand, and Prosecuting Attorney Troy Clements. Rep. Norm Johnson, R-Yakima, also attended the hearing.
The grant program outlined in the bill would request federal funding, but no state funding, to assist local governments.
The estimated cost of the sentencing enhancements is less than $330,000 for the 2011-13 budget. Ross said he hopes to offset this cost with another bill he's sponsoring, which would limit open records penalties for inmates.
The anti-gang bill now awaits a vote by the committee before it can reach a vote of the full House.
To read more about HB 1126 click on the following link http://apps.leg.wa.gov/billinfo/summary.aspx?bill=1126&year=2011.