First Pasco Dual Language students now in 6th grade
Posted:
Updated: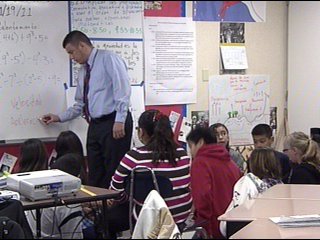 PASCO, Wash.-- The students who started in the first class of Pasco's Dual Language program at Maya Angelou Elementary are now in sixth grade at McLoughlin Middle School.
The program that pairs English and Spanish speaking kids together and immerses them in the languages came to Pasco School District seven years ago. Liz Flynn, Executive Director of Student Achievement for PSD, explains, "Starting at kindergarten, the kids are immersed in Spanish 80% of the day and 20% is in English. It continues through 6th grade now and they have about 50% of their day in English and 50% of their day in Spanish."
The 6th graders are in a portable that's split into 2 separate classrooms, one where the students learn social studies and language arts in English, the other where they learn math and science in Spanish. Each year, the students rotate what subjects they take in each language. Flynn says this is so that students retain the vocabulary in both languages for each subject.
The students who are in 6th grade have all been together since kindergarten and say friendship is one of the best things about staying in the program. David Manthei says, "I like it because I have a lot of friends in it and I get to learn a lot of Spanish."
Another 6th grader in the class, Jessica Mendoza, says, "I like the program because I get to learn more Spanish and English. In the Dual Language program, I get to know more friends." She says she's already well on her way to being bilingual, thanks to the program. In perfect Spanish, and again in perfect English, Jessica said, "I want to be a doctor and I can learn 2 languages and when patients come I can tell them in 2 languages."
Last year there were questions over which middle school would have the Dual Language program, but PSD decided on McLoughlin and say that's where it will remain next year. "For their fluency, their biliteracy, and to be truly bilingual they really should continue. It would be nice to see them continue until they graduate," Flynn says. She says there are definite plans for the program to carry over into 7th grade next year and she's hoping budget cuts won't effect the program in the future.