Ruiz gets five life sentences
Posted:
Updated: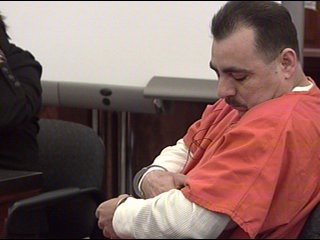 PASCO, WA-A Franklin County judge Thursday sentenced Vicente Ruiz to life in prison without parole.
Before and during the trial, the judge allowed Ruiz to change into slacks and a shirt before showing up to court. For sentencing, Ruiz wore a county jail jumpsuit and shackles.
Police arrested Ruiz in Mexico in 2006 for the execution-style slayings of five men in an auto body shop. Prosecutors extradited Ruiz to Pasco after agreeing with the Mexican government to seek the death penalty.
Each of the five convictions of aggravated murder carries a mandatory sentence of life in prison without parole. On one count of attempted murder, Superior Court Judge Cameron Mitchell sentenced Ruiz to the maximum of 20 years.
Before sentencing, Mitchell asked Ruiz if he wanted to say anything. Through his interpreter, Ruiz only said his attorneys are working on the appeal. Several families members of the victims sat in court, but none accepted the opportunity to speak.
Ruiz could be sent to the state penitentiary in Walla Walla, but his cousin, who pleaded guilty to the murders, is serving his sentence there. Deputy prosecutor Frank Jenny says normally co-defendants aren't kept in the same prison.
The prosecutor's budget has suffered as a result of the Ruiz case, and the public defender's office has spent more than $200,000 on his defense, not including the costs of the appeal, which could last years.