Pasco School District leaders considering year round schedule
Posted:
Updated: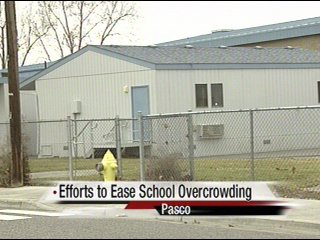 PASCO, Wash. -- Pasco School District leaders are trying to work quickly to come up with some solutions to deal with the severe school overcrowding problem, which is only going to get a lot worse over the next few years if something isn't done.
One thing they're considering is a year-round, or what's called a multi track schedule.
Students would attend classes on a staggered schedule, so they wouldn't actually attend class year round. For example, students would attend class for a set time period, then have a week off, however students in elementary might have a different week off than students in middle school, hence the multi track. Winter and Spring Break would be the same for all students however.
Thursday night, the Pasco School District Facilities Task Force hosted a public meeting where a former superintendent from Reno, Nevada talked about how a multi track school system has worked there for the last ten years.
"It's been very successful because it was at the time the only way we could deal with the severe overcrowding, which is the same thing Pasco is now addressing. So it allowed us at our elementary levels to lower the number of students in the building at any one time," said Paul Dugan, former superintendent for the Washoe County, Nevada.
Dugan said he is encouraged by the turnout at Thursday's meeting. He said that's a good indication the community is willing to work with school district leaders to come up with a solution. He thinks the multi track system would be a good fit for Pasco.
Pasco School District leaders are also hoping a $59 million school bond passes in April. If it does, the district will get an additional $50 million dollars in matching funds from the state which will help with the overcrowding problem.
District leaders are encouraging parents to join sub committees to help come up with solutions to ease the overcrowding problem.
District leaders say this is a community issue, not a district issue.