CWU Wins Rivalry Game over Western, 86-73
Posted:
Updated: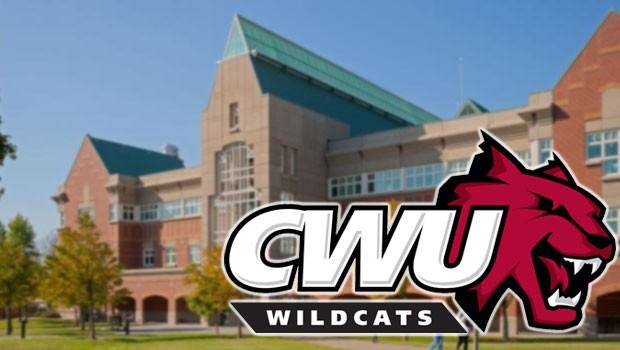 ELLENSBURG, Wash. -- Senior Jamar Berry (Tacoma, Wash./Franklin Pierce HS) led a balanced scoring effort with 17 points, and the number 16 nationally-ranked Central Washington University men's basketball team defeated visiting Western Washington University, 86-73, in front of a capacity crowd on Thursday night at Nicholson Pavilion.
The Wildcats, 14-2 overall and 7-1 in Great Northwest Athletic Conference play, maintained their GNAC lead with the victory while snapping a five-game series losing streak to the Vikings. Western fell to 10-5 overall and 5-2 in conference play.
Berry was 7 of 12 from the field in the contest, scoring 11 of his points in the second half, while also adding seven rebounds. Adding to the offense was senior Chris Sprinker (Tacoma, Wash./Curtis HS) who had 16 points, a game-high eight rebounds, and two blocked shots.
The majority of the first half was a see-saw battle, as there were five ties and three lead changes in the first 20 minutes of action. After surrendering a basket to Viking forward Rory Blanche on Western's first possession, Central went on an 8-0 run to take a six-point lead. Western then countered with a 13-3 run of its own to take a four-point lead at the 10:50 mark in the opening period.
With the score tied at 21, the Wildcats went on another run, scoring on six straight possessions and outscoring the Vikings 13-2 in the process. Central led by as many as 12 points in the half and walked into halftime with a nine point advantage.
Central Washington kept momentum to start the second half as they started the period with 14 points in the first four minutes to take a 19-point lead. Western Washington rallied to cut its deficit to five points with 2:58 left in regulation. CWU responded by scoring seven straight points, sparked by senior Coby Gibler's (Bainbridge Island, Wash./Bainbridge HS) first career three-point field goal at the 1:50 mark. Five of six free throws in the final minute enabled the Wildcats to pull away for a 13-point win.
The Wildcats dominated statistically as they outshot and outrebounded the Vikings while forcing more turnovers as well.
Central shot 49.2 percent (32 of 65) from the field, while Western shot 47.4 percent (27 of 57). The Wildcats took a 36-34 advantage in rebounds, with 18 rebounds each on the offensive and defensive ends, and they used the extra offensive opportunities to score 23 second-chance points in the contest.
The Central Washington defense recorded 12 steals and converted 19 Viking turnovers into 23 points.
Central got a boost from senior point guard Drew Harris (Yakima, Wash./Eisenhower HS), who had 13 points, seven assists and five steals. Gibler added 13 points and six rebounds off the bench.
Western Washington was led by Michael Duty, who scored a game-high 22 points on 8 of 14 shooting while adding eight rebounds. Also scoring in double figures for the Vikings were Shedrick Nelson and Rory Blanche, who scored 14 and 10 points, respectively.
The Wildcats, who have played just five home games among their 16 starts to date, will remain home on Saturday to face Simon Fraser University in a 7:30 p.m. tip off.
COLLEGE MEN'S BASKETBALL WEST REGION NCAA DIVISION II/GREAT NORTHWEST ATHLETIC CONFERENCE #16 Central Washington 86, Western Washington 73 WESTERN WASHINGTON (10-5, 5-2 GNAC) -- Duty,Michael 8-14 6-8 22; Nelson,Shedrick 4-10 5-6 14; Blanche,Rory 5-7 0-0 10; Allen,John 3-9 0-0 8; Henifin,Zach 3-6 0-0 6; Mitchell,Chris 2-5 0-0 5; Thorpe,Dane 1-1 2-3 4; Young,Dan 1-3 2-3 4; McPhee,Bryce 0-0 0-0 0; Dickerson,Derek 0-2 0-0 0. Totals 27-57 15-20 73.
CENTRAL WASHINGTON (14-2, 7-1 GNAC) -- Berry,Jamar 7-12 2-3 17; Sprinker,Chris 7-17 2-3 16; Perez,Humberto 4-7 4-4 13; Gibler,Coby 5-9 2-3 13; Harris,Drew 2-7 3-5 8; Scott,Chris 2-3 2-4 7; Clyde,Roby 3-6 1-4 7; Johnson,Jody 2-4 1-1 5. Totals 32-65 17-27 86. Halftime--Central Washington 40, Western Washington 31. 3-point goals--Western Washington 4-18 (Allen,John 2-5; Mitchell,Chris 1-3; Nelson,Shedrick 1-5; Dickerson,Derek 0-2; Henifin,Zach 0-1; Duty,Michael 0-2), Central Washington 5-14 (Perez,Humberto 1-3; Scott,Chris 1-2; Harris,Drew 1-4; Gibler,Coby 1-1; Berry,Jamar 1-2; Johnson,Jody 0-1; Sprinker,Chris 0-1). Fouled out--Western Washington-Henifin,Zach, Central Washington-None. Rebounds--Western Washington 34 (Duty,Michael 8), Central Washington 36 (Sprinker,Chris 8). Assists--Western Washington 9 (Henifin,Zach 3), Central Washington 16 (Harris,Drew 7). Total fouls--Western Washington 22, Central Washington 15. Technical fouls--Western Washington-None, Central Washington-Berry,Jamar. Att--2519.
Great Northwest Athletic Conference game
NABC/Division II Rankings: WWU (NR), CWU (#16)