Yakima Gang Unit: Bill would boost gang enforcement
Posted:
Updated: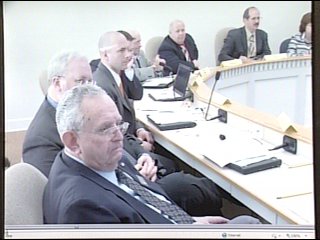 YAKIMA, Wash. -- Yakima police want people to know they'll continue taking a proactive approach against gang violence.
Yakima leaders testified before the House Public Safety and Emergency Preparedness Committee, Wednesday, in support of a new Anti-Gang Bill.
House Bill 1126 was proposed by Washington State Attorney General Rob McKenna and co-sponsored by Rep. Charles Ross, R-Naches.
Yakima Police Gang Unit Sgt. Erik Hildebrand, who testified in Olympia, says the bill would provide more tools for police to stop the gang activity in Yakima.
"If the bill were to pass, we as the gang unit could identify who these people are and what geographical boundaries they are restricted to," Hildebrand explaining the northside gang members and southside gang members. "Basically we know that you're active gang members and there is no reason for you to be in this side of the neighborhood."
Opponents expressed concern the bill would increase racial profiling by law enforcement.
"The goal of this legislation is to specifically target those who are proven gang members - regardless of race, class or clothing - who have committed crimes and belong to a proven criminal street gang," Ross said. "A member of a gang is not identified by their looks, but by their record and proven actions."
Hildebrand says the Gang Unit and YPD are continuing to be proactive and want to stop things from happening. "We stop the right car at the right time that might've been on their way to do a drive-by shooting. We arrest them for driving on a suspended license or DUI, or smoking marijuana, and put them in jail for that," Hildebrand said.
Joining Hildebrand and Ross were Yakima County Commissioner Kevin Bouchey, Sheriff Ken Irwin, and Prosecuting Attorney Troy Clements. Rep. Norm Johnson, R-Yakima, also attended the hearing.
The anti-gang bill now awaits a vote by the committee before it can reach a vote of the full House.
To read more about HB 1126 click on the following link http://apps.leg.wa.gov/billinfo/summary.aspx?bill=1126&year=2011.