Update on fatal collision in West Richland
Posted:
Updated: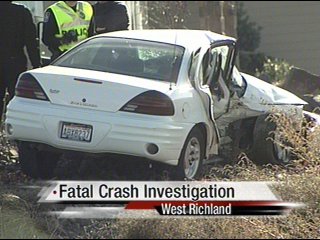 WEST RICHLAND, Wash -- Police are still investigating a fatal crash that left one woman dead Sunday in West Richland.
They say 65 year old Connie Walser merged onto Keene Road from South Highlands, into the path of a pick up truck. The driver of the truck, Brett Young, hit Walser's car, forcing it off the roadway, and spun out. Young was ejected through the driver's side window while the truck was spinning. Both Young and his wife were taken to Kadlec Medical Center. They have been released. Walser was pronounced dead at the scene.

The crash happened around 11:10 AM at the intersection of Keene Road and South Highlands Blvd.

Three law enforcement agencies; West Richland Police, the Benton County Sheriff's Office, and the Washington State Patrol assisted.
Traffic Investigators say there were no witnesses so they are checking out the marks on the ground for a better understanding on the accident.
Walser was a wife of 44 years. She had seven kids, and 21 grandchildren.
Her daughters, Shelly Burt and Shannon Gammon say the intersection is dangerous and they'd like to see a traffic light put in there.
"I myself have almost gotten into some accidents there...just driving and pulling out because it's scary and the cars go so fast. And sometimes when the light is hitting you, you can't see," says Gammon.
"It's a scary intersection, you know you have 50 mile and hour traffic coming at you when you try to turn from both directions," says Burt.

West Richland Public Works Director, Rosco Slade says they do a traffic study every year and that intersection has good visibility and does not warrant a light at this time.
"There's a number of factors that go into accidents and all I can say is that the city monitors and takes traffic counts at intersections, we monitor accidents and we review those to see if they're correctable. Correctable, means human error, and that is what we will look at," says Slade.
Sgt. Scott Bravo, with West Richland Police says, "It was a tragedy, but I don't believe it had anything to do with the design of the road. That road has good visibility in both directions."