Prosser police investigating theft of backhoe
Posted:
Updated: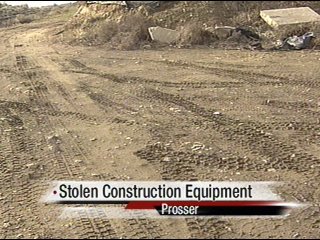 PROSSER, Wash. -- A backhoe used by the Port of Benton for a project to build a new irrigation pump for a wine grape vineyard, was stolen over the weekend. Now workers are left trying to figure where to go from here.
"You want to trust everybody, and you think that's never going to happen to you. And here it did and here we are without a backhoe. Now we either are going to have to rent one or unless they find it, buy another one," says Bob Davenport of the Port of Benton.
Prosser police are investigating who took the orange machine which was reported missing Monday morning. Authorities believe the equipment was stolen sometime over the weekend, but without any leads, they need your help.
"Probably didn't appear to be suspicious to anybody that may have been driving at the time. But now that we've been able to address the issue and expose our community to what happened, we're trying to elicit their help to locate this piece of equipment," says Prosser Police Chief Patrick McCullough.
This theft adds to a recent string of stolen construction equipment in the area. Most recently another backhoe was stolen in Kennewick. While this is a rare incident in Prosser, police are warning contractors to be more vigilant.
"If they can at least let our dispatch know that they're going to expect people on a work site over the weekend, that's helpful to let our patrols know so if they see anything out of the ordinary, they'll be able to come and investigate it," says Chief McCullough.
But while workers at the Port of Benton wait for word on the equipment, their work gets delayed.
"I'm hoping to get another one, we use it quite a bit. It's been a real handy tool for us and this is the first time we ever had anything like this happen, and we sure like to get it back if that's possible,"says Davenport.
Prosser police ask if you have seen anything around the scene of the crime on Wine Country Road by I-82, give them a call at 509-786-1500.