2010 crime statistics from Tri-City police agencies released
Posted:
Updated: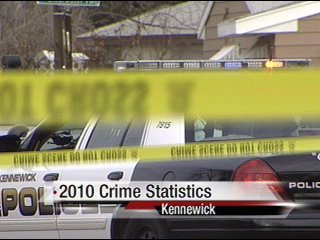 KENNEWICK, Wash. -- On paper, they're just numbers, but in reality they represent the real problems law enforcement agencies in and around the Tri-Cities have been dealing with.
According to Pasco Police, there is a 7 percent drop in all major crimes for 2010 compared to 2009. Richland police are also reporting a drop of 14 percent in all major crimes. Kennewick police have seen an increase of 7 percent.
Despite the numbers, all the agencies stress they shouldn't be judged based on the results. "There's so much more that you have to take into account than just these numbers as far as judging what kind of job we're doing and not doing,"explains Richland Police Chief Tony Corsi.
One thing they're all doing is placing an emphasis on gang violence. With Benton County recording two murders last year, Sheriff Steve Keane says his office is being proactive, "We've identified most of the gang members that live in our community. We've actually made physical contact with each and every one of them. We actually talked with their parents and we're working in the schools to educate the schools as to what to look for."
And while overall crime in Kennewick is up, violent crime is down by six percent. Kennewick police is working to keep that stat low and prevent the violence other cities have seen.
"We're not dealing with this every day, we're not having shootings go on every day. We're not having 20 something homicides over the course of the year, but if you don't pay attention to it, it can certainly start to boil,"says Hohenberg.
One thing the Kennewick Police Department will change is their approach to people who leave their cars running unattended. According to the Chief, police will issue citations to those people, citing that cars stolen as a result create a danger to the public and officers.