YFD tests theory on smoke detectors
Posted:
Updated: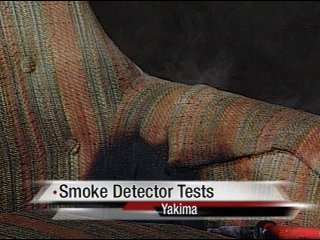 YAKIMA, Wash. -- Firefighters want you to know it's not just batteries that need to be checked, but also the type of smoke detector used in your home or apartment.
Thursday, City of Yakima firefighters conducted a test of Ionization and Photoelectric smoke detector technology inside their "burn room" at Station 95.
Firefighters simulated a slow, smoldering fire, the kind they say is one of the deadliest type of fire. Smoldering fires are more deadly because poisonous gases form while people are sleeping.
Deputy fire marshal Ron Melcher, says the test was to prove that a Photoelectric smoke detector can detect these types of fires, faster than Ionization detectors.
"We had several minutes in between some of the Ionization chambers activating. Quite frankly, in a fire it's down to seconds a lot of times," Melcher said.
About 90-percent of detectors in homes are the type that may not sound the alarm in time, according to Melcher.
YFD recommends having at least one Photoelectric detector on the entry level of your home.
Melcher says smoke detectors will say they're Photoelectric either on the back or have the letter "P" written on it. These detectors will cost about $15 and are available in most hardware stores.
The Yakima Chapter of the Red Cross teamed up with YFD in Thursday's smoke detector tests.