Lawmaker wants to merge counties, including Yakima?
Posted:
Updated: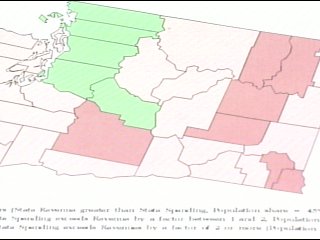 YAKIMA, Wash. -- A Washington state lawmaker has proposed a law that would allow counties to merge, including Yakima.
The goal for the bill would be to make counties financially stronger.
Rep. Glenn Anderson, R-Fall City, who proposed the bill, says smaller counties like Yakima use more state services compared to that of King County.
According to Anderson, there are 6 counties in the state that provide 75-percent of the tax revenues. Of that, he says King County provides 42-percent of the state revenue, but only uses 26-percent of state services.
Anderson says he looked at 2008 data from the Office of Financial Management and found that 8 counties, including Yakima, "consistently consumed twice the level of state services than the provided in tax revenues." He went on by saying, "from their local economies to the state, that just makes them effectively wards of the state."
The bill would allow the state to dissolve and re-organize counties that receive at least twice as much in state funds as they generate in tax revenue.
KNDO spoke to Rep. Bruce Chandler, R-Granger, who doesn't think the bill will be taken seriously.
"We have challenges here with the budget and with getting people back to work, and that's a statewide issue. I think the bill will not even get a hearing," Chandler said.
Rep. Norm Johnson, R-Yakima, who is opposed to the bill suggested, "We could end up with a gigantic county. I mean, it could be Grant, Okanogan, Chelan and Yakima? I mean, the proposal, in my opinion, isn't even worth considering."
The bill would also apply to seven other counties; Adams, Asotin, Ferry, Stevens, Lincoln, Garfield and Wahkiakum.