Egyptians in Tri-Cities speak out about political riots
Posted:
Updated: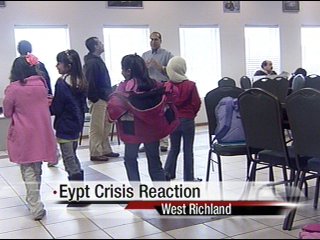 WEST RICHLAND, Wash. -- Native Egyptians living in the Tri-Cities who attend the Islamic Center in West Richland sat they have found it to be a source of comfort.
For the last three days, mayhem has been going on in the streets of Cairo. Egypt's military appears to be trying to stop the
looting, armed robbery and arson that have been plaguing the country's capital but soldiers are doing nothing to try to clear thousands of anti-government protesters from the streets.
The protesters are again defying a nighttime curfew, as they continue their push for President Hosni Mubarak to leave.
The official death toll from five days of growing crisis stands at 97, with thousands injured, but reports from witnesses across the country indicate that the actual toll is far higher.

Yehia Ibrahim, is a scientist at PNNL who has lived in the US for 12 years and in the Tri-Cities for the last six years. He says there are about seven families here native of Egypt who attend the Islamic Center and they have been keeping in touch with each other about what is going on back home.
He says he's happy about the revolution, but also worried about his family's safety. They live about 14 miles outside of Cairo.
"It is an oppressive government and it has elements of corruption.. They don't allow the change in a peaceful way and the only way for people to get that change is to rise up against it. So that's my opinion," says Ibrahim.
Ibrahim says many people have taken a vigil ante role and are protecting their property from looters. He says he's been communicating with via Facebook.