Military recognizes 'legitimacy' of demands
Posted:
Updated: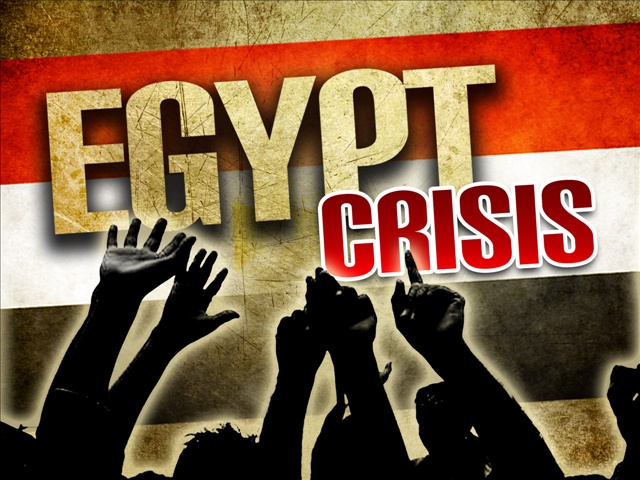 CAIRO (AP) - Egypt's military says it recognizes "the legitimacy of the people's demands" and promised to guarantee "freedom of expression" ahead of a planned escalation of the country's week-old anti-government protests.
A military spokesman, Ismail Etman, has appeared on state TV saying the military "has not and will not use force" against protesters, but he urged them not to commit acts harming security or damage property.
The statement was the strongest sign to date that the military will allow week-old protests to continue and even grow as long as they are peaceful. The statement did not specify what demands the military views as legitimate - but the main demand by protesters is the ouster of President Hosni Mubarak.
Mubarak today tried to defuse the upheaval by naming a new government. He dropped the interior minister in charge of security forces. But protesters gathered in a central Cairo plaza scoffed at the changes.
Although opposition groups issued a joint call for a massive protest tomorrow, it's not clear if they will be able to unify around their sometimes conflicting demands. Mubarak's foes include students, online activists, old-school opposition politicians and the fundamentalist Muslim Brotherhood.
Egypt's newly appointed vice president says President Hosni Mubarak has asked him to immediately begin dialogue with "political forces" for constitutional and legislative reforms. Vice President Omar Suleiman, a longtime Mubarak confidant, did not say what the changes would entail or which forces the government would speak with.
Opposition forces have long demanded a lifting of strict restrictions on who is eligible to run for president. A presidential election is scheduled for September.
The statement appeared to be a new attempt by the regime to defuse protests by tens of thousands, but it was unlikely to satisfy protesters, who have made clear they will not be satisfied by anything less than Mubarak's ouster and the end of his regime.
In Washington DC, The State Department says it has so far evacuated more than 1,200 Americans from Egypt aboard government-chartered planes and expects to fly out roughly 1,400 more in the coming days.
Department spokesman P.J. Crowley said that by the end of Monday six planes will have flown nine flights ferrying U.S. citizens from Cairo to Larnaca, Cyprus; Athens, Greece; and Istanbul, Turkey. He said that on Tuesday an additional destination, Frankfurt, Germany, will be added. In the coming days, the department expects to add evacuation flights from the Egyptian cities of Aswan and Luxor.
In addition to the chartered aircraft, Crowley said a small number of Americans left Egypt on a Canadian evacuation flight and about 70 left on Sunday aboard a U.S. military plane that was bringing in embassy staff.
The White House is calling for free and fair elections in Egypt, but refusing to say whether the U.S. believes President Hosni Mubarak should run in those contests.
White House spokesman Robert Gibbs dismissed Mubarak's move on Monday to appoint a new government, saying the situation in Egypt calls for action, not appointments. Mubarak named a new government in an apparent attempt to defuse the weeklong political upheaval in his country. Tens of thousands of demonstrators have flooded the streets, calling for his ouster.
Gibbs also says the U.S. embassy in Cairo has not been in contact with opposition leader Mohamed ElBaradei this week. Egypt's government put ElBaradei on house arrest after he returned to the country amid the protests.
MSNBC.com has comprehensive coverage of the situation in Egypt and elsewhere in the Middle East, including videos, Twitter conversations, NewsVine chats, a timeline, and explainers on key players in this developing situation. Click this link: http://crisisinegypt.msnbc.com for more information.