2011 Tri-Cities Official Visitor Guide is now available
Posted:
Updated: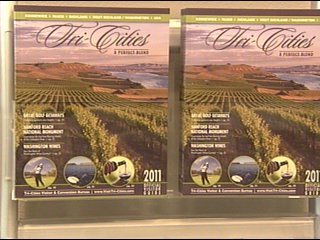 KENNEWICK, Wash. -- The 2011 Tri-Cities Official Visitor Guide is now available. It is a free publication of the Tri-Cities Visitor & Convention Bureau and makes planning a trip easy.
Over 70,000 redesigned and updated guides were printed this year and are packed full of information on attractions and services throughout Kennewick, Pasco, Richland, West Richland, and the Columbia, Yakima, and Walla Walla valleys.
The full-color, 88-page Visitor Guide is a convenient resource for planning a family vacation, group outing, golf getaway, wine-tour weekend, or romantic rendezvous in Eastern Washington. It also serves as a resource for employee recruitment efforts put forth by local businesses.
The 2011 Tri-Cities Visitor Guide provides information on the area's wineries, golf courses, hiking & biking trails, dining, wildlife viewing, sporting events, farmers' markets, bed & breakfast inns, hotels, museums, local food festivals, arts and entertainment, restaurants, shopping, wineries, kids' picks.
"An important part of our guide is for relocation. For businesses that are hoping to come here, families that are going to be relocating to the Tri-Cities. We are always growing, " says Jordan Youngs, the Director of Marketing for the Tri-Cities Visitors and Convention Bureau.
You can get your free copy at the Tri-Cities Visitor Center located at 7130 W. Grandridge Blvd., Ste. B in Kennewick.