Mobile home fire claims the lives of two children
Posted:
Updated: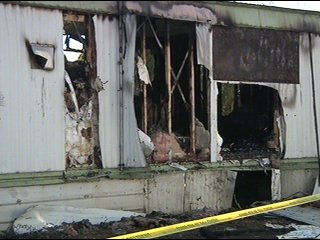 MILTON FREEWATER, Ore. -- Two young girls were killed in a mobile home fire Tuesday morning.
Umatilla County Sheriff's Deputies say the fire broke out just before 9:30 AM on the 1500 block of Elizabeth Street at Locust Trailer Court.
"Well I just saw really really big flames out of the down windows, sides, roof and on top," says Christian Angel, neighbor.
Investigators say a 13-year-old boy was home sick, and babysitting his two younger sisters, 16-month-old Olivia Wilson and 4-month-old Eva Wilson. They say a fire started inside the mobile home when combustibles got too close to a space heater.
A neighbor says the 13-year-old boy was able to get out, but his two sisters were still inside, asleep in the back room.
"I said is there anybody in there and he said my two little sisters and I just about lost it, because the fire was really spreading," says Jerolyn Phillips, nearby resident.
Umatilla County Sergeant, Tawin Campton says, "we try not to let the emotions get to you until after it's over. Do your job and try and do the best job you can, at the end of the day that's when you do what you have to do to decompress."
The children's parents were not home at the time; the girls' father, Hermillo Castillas, was at work. Deputies say the family has an older teenage girl who was at school during the fire. Both the 13-year-old boy and older sister are believed to be with their mother.
The mobile home was completely destroyed from the inside out.