Auto industry off to good start for January
Posted:
Updated: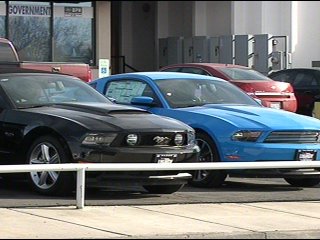 PASCO, Wash. - Car dealers say they are starting to see signs the economy is improving. In fact, sales of cars and trucks in the U.S. are up about 17% from a year earlier.
Here in the Tri-Cities they are doing just as well if not better. At Legacy Ford in Pasco total sales in January were up 38% versus a year ago and at Tom Denchel Ford Country in Prosser sales in January were up 89% compared last year.
Even shops like McCurley Integrity Auto Dealership are seeing the buyers. "January of last year was our 12th ranked month of the year and last month we were up about 27%," said Craig Cavanaugh, General Sales Manager of McCurley. Cavanaugh says it's the consumer confidence that has people shopping and it's leading to buyers wanting brand new cars. "Not only are the incentives good, but the domestic product really has come out with some fantastic new models," said Cavanaugh.
He adds that despite the rise in gas prices it's not stopping people from buying the big trucks. Cavanaugh says drivers are starting to realize that it's pretty much the new benchmark. "Because the manufacturer's are doing so much better with gas mileage and achieving gas mileage in vehicles that can hold a boat or haul a trailer or haul a family. People have not ruled out the full size vehicle."
He also expects the month of February to be another great month for sales.