New interpretive service at Kadlec
Posted:
Updated: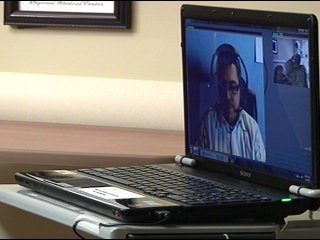 RICHLAND, Wash. -- Kadlec Regional Medical Center is finding new ways to help patients communicate who are deaf or don't speak English communicate. Kadlec has three video remote interpreting systems that can call an interpreter at any time.
RICHLAND, Wash. -- In the past, patients had to wait for one of seven interpreters to become available, or they communicated by phone.
The new system is wireless and can be transported all over the hospital. "It's much easier to just grab the laptop than wait for interpreting services," says David Pheysey, Doctor.
The patient can actually see the interpreter on the screen. This way they can read body movement and even Sign Language. "Previously, they were writing notes but not all people who are deaf communicate in written language. Sign language is their language," says Johnean Hansen, Coordinator of Interpreter Services.
Sign Language, Spanish, Russian, Vietnamese and soon Arabic translators are available. The translators are all stationed in Wenatchee and are readily available. Doctors now are using the systems several times a day.
"We had a patient that was Russian speaking, and we didn't have a Russian translator, so they would have had to have been called in," says Pheysey.
The machines won't replace Kadlec's seven interpreters, but they do ensure patients can always communicate no matter their barriers. Hansen says, "now they are able to have a voice."
Kadlec has three systems that are all paid for with their interpretive services budget. They hope to get even more in the future.