Local dairy farm hoping for a good year
Posted:
Updated: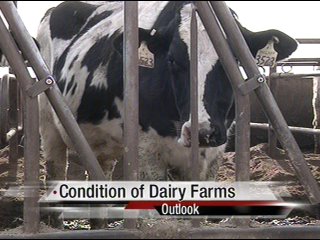 OUTLOOK, Wash. -- Into a new year, DeRuyter and Sons dairy farm are hoping things look up for their bottom line when it comes to producing milk. Many in the dairy industry, including the DeRuyters, took a beating in 2009. So how was business in 2010?
"It was almost as if you could catch your breath. I don't think anybody made a lot of money in 2010, but I don't think they lost money, so it kind of felt good when you weren't losing money," explains Dan DeRuyter, co-owner of the Farm.
The feeling of losing money is something people at this farm experienced the hard way in 2009.
"We lost money in the millions, and a lot of it was to do with the fact that we had high feed prices in 2008," says DeRuyter.
For dairy farms to survive financially, the selling price for the milk they produce needs to be above $18.00. The average selling price for Washington farms in 2008, was over $19.00. In 2009, that price dropped to around $13.00. And in 2010, things rebounded at $17.00, which is considered breaking even.
But DeRuyter is hoping to excel by producing better milk. And one way is by recycling what's placed in your shopping cart.
"The waste of that food is still good nutrients and very good for cows, so what happens is a lot of companies will send their waste over to us, and we feed our cows that waste," says Dan DeRuyter.
Businesses like the Outlook farm know the road to better times will be hard, but DeRuyter is holding out on being unrealistic, "not particularly great, it could be great but we'll just have to see how that goes. I'm optimistic."
Optimistic, but DeRuyter and other dairy farmers know this year will start slow, but hope in the end, it doesn't look like 2009.