Super Bowl frenzy, party plans and pizza making
Posted:
Updated: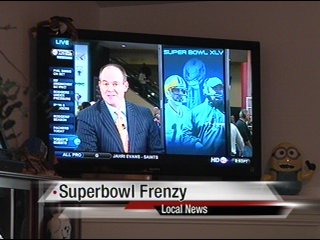 KENNEWICK, Wash.- The superbowl is just days away and one of the biggest events of the year.
Businesses and people in the Tri-Cities and Yakima are already busy getting ready.
DirecTV and Northwest Broadcasting have reached a temporary agreement, but a little too late for some people who have already changed their Superbowl plans.
"We had to make other arrangements so instead of hosting our own party we're going to crash my brother in law's because he's got dish," says Carlos Martinez.
And Martinez isn't the only one scrambling. All across the country pizza sales are sky rocketing, and that includes Papa Johns locations in the Tri-Cities and Yakima.
"Almost double what we normally do," says Assistant Manager Karl Rimmasch.
Rimmasch says Papa Johns being the official pizza sponsor of the Superbowl means more prep work, and a full staff working long hours.
"Normally we prep a dozen onions, we're prepping 2 dozen onions and chopping those up so that takes some time. Hauling out big stacks of dough. 25 to 30 trays of dough."
So while some work hard getting ready for the big game, others are just settling into the plans they've made.
Martinez says even though he's a seahawks fan; pizza and sports is always a good time.
"Have some friends and family over. We're going to have some food and watch the game and have a good time."