Council votes to put district voting on the August ballot
Posted:
Updated: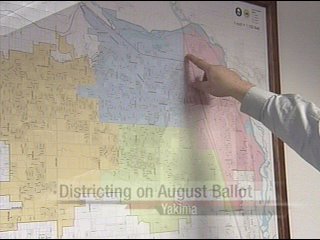 YAKIMA, Wash- In next Tuesday's special election Yakima residents will decide their form of government. But the city council recently voted to put another hot button issue on the ballot. By August 16, Yakima residents will vote on an issue that could literally change the face of Yakima politics.
District only voting has been a controversial issue since it was proposed last fall. After the city council ignored requests to put it up for vote, volunteers with Central Washington Progress gathered the signatures needed to put it on a ballot.
They wanted it to be voted on during the special election, but now it will have to wait until after the strong mayor issue is decided. The district voting supporters are against the strong mayor proposal, however they plan to move forward regardless of Tuesday's outcome.
"In either case we are going to go really strongly forward with our campaign to educate the voters of Yakima about districts", says Mary Baechler of Central Washington Progress.
If passed, the proposal would break the city into seven different voting districts and each candidate for city council would have to live in the district they represent. Voters could only vote for their district's council member. A likely side effect of a move to district voting would be a more racially and economically diverse city council.
District voting advocates say they plan to participate in voter education forums similar to the ones we saw for the strong mayor issue.