Glitz and glam benefit for the arts
Posted:
Updated: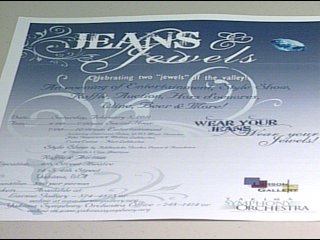 YAKIMA, Wash. -- It's a little bit of 'glitz and glam' to help out two Yakima area art and music organizations.
The "Jeans and Jewels" event is Saturday night. The event begins at 6:00 p.m. at the 4th Street Theatre in downtown Yakima.
Guests will be treated to music, food, local wine and beer, and a chance to bid on several auction items. You can purchase tickets at the door. The cost is $60 per person. Proceeds benefit the Larson Gallery and the Yakima Symphony Orchestra.
"Jeans & Jewels" highlights include performances by the Symphony's new music director Lawrence Golan, Melissa Labberton and John Gasperetti with Kurt Labberton as the evening's emcee.
The live auction will feature original art by Leo Adams and Charles Smith, as well special weekend packages and other offerings from White Pass, Sporthaus, Ummelina's, and more. A diamond necklace and other jewelry will also be auctioned.
The evening will also feature a raffle that will include gift certificates from the style show participants, a bracelet donated by Garden Girl, and original artist-made jewelry donated by Judy Frisbie and Katie Hall and as well as artist made clothing donated by Ann Bowker, Sandi Carter, and Sally Fitch.
Ali Macias with the Yakima Symphony Orchestra, says it's great to have not only one, but two organizations joining together in the fundraising efforts.
"Well, with the arts getting a lot of cutbacks these days, we thought it would be not only fun but better. If we join hands we could have an even better fundraiser," Macias said.
Macias notes the Larson Gallery and Yakima Symphony orchestra are two of the longest running arts organizations in the Yakima area.