Ams Suffer Let Down Against Portland
Posted:
Updated: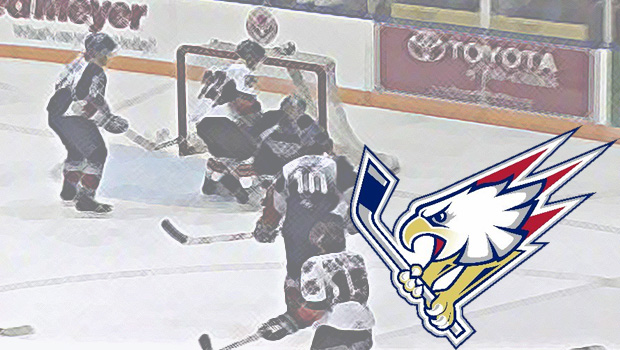 The Portland Winterhawks (36-15-0-3) scored four first period goals and never looked back as they earned an 8-2 win over the visiting Tri-City Americans (33-14-2-1) Saturday at the Memorial Coliseum in front of 7,145 fans.

The win keeps Portland atop the Western Conference with 75 points, five points more than Spokane, who passed the Americans tonight with a win in Seattle, and six points clear of the Americans in the U.S. Division.

Portland got a balanced attack that saw seven different players account for the eight goals, while taking a season-high 54 shots on net.

The Winterhawks opened the game by blitzing the Americans with four first period goals, starting just 1:17 into the game when Tayler Jordan scored on a power play. The Winterhawks then made it 2-0 on a Sven Bartschi wraparound at the 5:35 mark.

Joe Morrow made it 3-0 for the Winterhawks at the 10:52 mark before Tri-Cities got on the board when Justin Feser collected a rebound in the slot and fired it into the Portland net to make it 3-1. But the Winterhawks got that one back when Ty Rattie scored his 23rd goal of the season at the 15:15 mark to regain a three-goal lead, making it 4-1 going into the second period.

Early in the second the Winterhawks struck again, this time while shorthanded. Taylor Peters brought the puck into the Americans' zone and found Craig Cunningham streaking to the net, who beat Tri-Cities netminder drew Owsley to make it 5-1. But just 37 seconds later Tri-Cities' Jordan Messier scored to make it 5-2.

The Winterhawks made it 6-2 at the 13:49 mark of the second when Tyler Wotherspoon fired a shot from the point that beat Owsley. Minutes later Rattie scored his second of the game to make it 7-2, at which point the Americans made a goaltending change, bringing in Chris Driedger in relief of Owsley.

The score remained 7-2 until the 15:23 mark of the third period when Ryan Johansen scored a power play goal to give the Hawks an 8-2 lead that would stand as the final.

Mac Carruth got the win in net for Portland, stopping 35 of the 37 shots he faced. Owsley allowed seven goals on the 33 Portland shots he faced, while Dreidger stopped 20 of 21 in relief.