Local craigslist job scam
Posted:
Updated: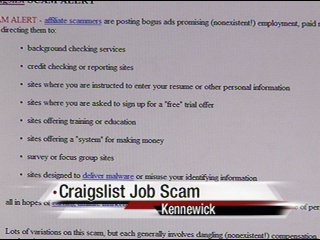 KENNEWICK, Wash.—Scammers are always out there looking for the best way to stoop you out of your money. Now one job scam is taking advantage of your trust.
In this case, a scam tried to take advantage of a Tri-Cities woman in a few pretty scary ways. A representative with the Better Business Bureau says a woman responded to a job on craigslist advertising for a house cleaner. The employer said he would give her a check for $2,400, she should keep $400 of it and give the rest to the painter who would later pick her up and take her to the job site.
A few problems:
1. An employer should never ask you to cash the check before working.
2. They won't require you to give part of your check to someone else.
3. A legitimate job would not involve a stranger picking you up.
"Especially work at home offers you have to be careful of the ones that offer the perfect job. You don't have to work 40 hours a week, maybe only 20 but you're going to make big bucks. If it sounds too good to be true it probably is," Norma Miller, Better Business Bureau.
Miller recommends getting the business checked out with the BBB, don't pay upfront fees, and never give out any personal information unless you know the business is legitimate.