Police say remains at Clover Island are human
Posted:
Updated: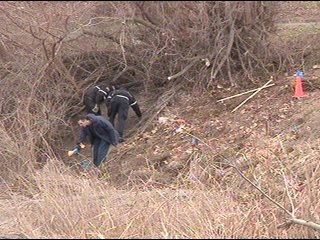 KENNEWICK, Wash. - Kennewick Police now say the remains found on Clover Island Monday afternoon are human. Benton County Coroner, John Hansens says it appears they have been decomposing in the area anywhere from 18-30 months.
Sgt. Randy Maynard , the main detective on the case with Kennewick Police says they completed processing the evidence today with the help of Benton County Sheriff's Office and Washington State Patrol Crime Lab.
"We've identified several pieces of evidence, but by saying that, at this point we don't know if it's actually evidence of a crime or if its unrelated material that just happened to be there," says Maynard.
Two men surveying for the Army Corp of Engineers found the bones at Duffy's Pond at Clover Island Monday.
Police got the call about 1:15 PM. One of the workers who stumbled upon the bones said he first saw boots, but when he pieced it together, he realized there was also a skull buried in the mud.
Mathew Rainey says, "there wasn't a whole lot there. You could see boots and bones. That's about it. Boots, a coat, bones, there just wasn't a lot there. It's been there a while. There's no doubt [it's a person], absolutely no doubt. There's no if's ands or buts, it's a person."
A woman from the Port of Kennewick says they closed a mobile home park in the area last May. She says many homeless people used to camp out by the water where the discovery was made.
Hansens says the next step is getting the forensic pathologist here to figure out the cause of death, but that may be difficult.
"With the limited amount of remains that we have it could be very difficult, we're hopeful, that some of the evidence on the body will tell us the cause of death. We're hoping because of the condition of the jaw both the upper and lower, we'll be able to do a dental comparison. So we're waiting for the records on that," says Hansens.
Maynard says Kennewick Police is looking into missing persons reports from local law enforcement agencies to identify the remains.