Local farmers arraigned on insurance fraud
Posted:
Updated: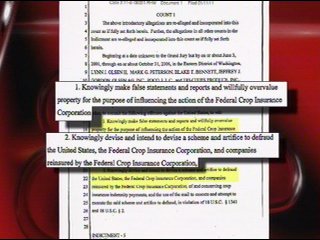 KENNEWICK, Wash. -- Twenty pages from the U.S. District Attorney's office describes the fraud area farmers are accused of.
They accuse four people and three companies of insurance fraud. Lynn Olsen, Mark Peterson, Blake Bennett , and Jeff Gordon were indicted on counts of conspiracy, false application, and mail fraud.
Here's how the U.S. Attorney's Office contends the conspiracy worked. First, Norkotah potatoes were improperly packed over a period of years that led to financial losses and the accused recouped losses from the federal crop insurance corporation.
In the indictment, prosecutors say the parties fraudulently received more than $ 9 million dollars in F.C.I.C payments.
In the statement prepared by U.S. Attorney's Tyler Tornabene and Andrew Biviano say the people and companies involved, "knowingly make false statements and reports and willfully overvalue property for the purpose of influencing the action of the federal crop insurance corporation".
It also says they, "knowingly devise and intend to devise a scheme and artifice to defraud the united states, the federal crop insurance corporation ... And companies reinsured by the federal crop insurance corporation."
I reached out to the defendants in the case, Jeff Gordon of Gordan Brothers winery was the only one to respond.
Gordan says a mistake was made in the charges and what is said in the 20 page indictment is not true. But he would not elaborate.