Richland school district's vending machine policy
Posted:
Updated: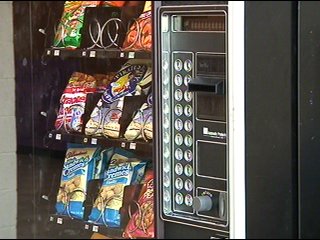 RICHLAND, Wash.-- A recent national study shows 80% of school vending machines offer foods with little to no nutritional value. So do you know what your student uses that spare change for?
Different school districts have different nutritional standards. For this story, we're focusing on the policy at Richland School District, which was written in 2005. According to their policy, Todd Baddley, Assistant Superintendent of Instruction for RSD, explains, "Elementary schools- we have no vending machines. Middle schools can have vending machines. They have to meet the minimum requirements, or can't exceed the maximum requirements of fats and sugars. The high schools have to have at least 50% of their items meet those standards."
The standards in Richland school district are:
-No more than 35% of calories from fat
-No more than 10% of calories from saturated fat
-No more than 35% added sugar by weight
If you look inside the vending machines at Hanford High School, they are filled with snacks ranging from Cheetos to Fritos to cookies to trail mix and drinks ranging from Coca-cola to Vitamin Water to plain water. Fritos don't meet the minimal nutritional standard set by RSD (They have 56% of calories from fat and 11% from saturated fat, according to the formula from RSD) but as long as they're balanced out with an item that meets it, they're okay at the high school level.
"We want to make sure the students are being healthy and health conscious and take health classes," says Baddley. He explains there's also a delicate balance between what's healthy and what kids will buy. "If it's not offered there, the kids are going to walk across the street and buy it at the store. So we would rather keep it in house, keep them on our campus and try to work with them to make healthy choices."
All the profits from the vending machines go to the Associated Student Body, according to Baddley. "I know the student body is always struggling as to how they're going to raise money to pay for activities and clubs. So there's a little give and take there."