Sunnyside City workshop heats up
Posted:
Updated: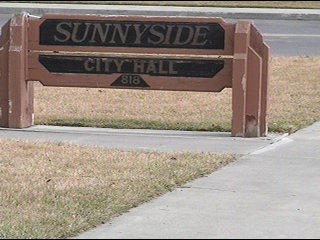 SUNNYSIDE, Wash. -- Things heated up during Monday night's Sunnyside City Council meeting.
Council members discussed the proposed Gang Suppression Package to help combat the city's gang violence during the meeting.
Councilman Don Vlieger and Mayor Jim Restucci agree to hire additional officers to focus on the gang issue.
Vlieger expressed during the meeting he wants to hire officers right away, but Mayor Restucci says he wants to wait.
"It's wonderful to say that we're going to put this money toward the gang problem and dedicate these resources. How are we going to pay for that and how are we going to sustain it? Is probably the next question," Restucci said.
The mayor and city council were joined by the City's police chief and deputy chief. The police department heads gave their insight on how they are currently handling the gang issues and where they're at with filling the positions of officers.
Vlieger says the City's police department is down about 4 officers. He points out how having a gang task force would help reduce the gang problem. "You need to make this lifestyle miserable," Vlieger explained.
Restucci expressed how important it is to have intervention, prevention and suppression if the city is going combat gang crime.
"The funding's there, we're not a poor city. We have the money for this. It's a matter of whether or not it's a priority to the council," Vlieger said.
Restucci says he apologizes for anything he may have said that could've offended councilman Vlieger.
The council is scheduled to vote on the Gang Task Force at their February 28th meeting, located at the Law & Justice Center at 401 Homer Street in Sunnyside. The council will also meet on February 14 to vote on the hiring of a new crime analyst.
To hear audio portions from the Feb. 7th City Council Workshop click here: http://sunnyside.granicus.com/ViewPublisher.php?view_id=2.