New paintball store & field in the Tri-Cities
Posted:
Updated: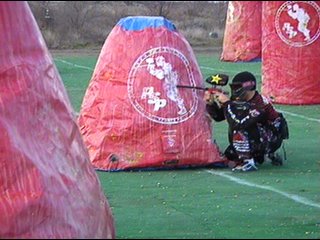 WEST RICHLAND, Wash.-- One business in West Richland is bucking the trend. Many stores nationwide are closing their storefronts and going online only, but Red Dot Paintball has done the opposite.
Tim and Sue Osborn started reddotpaintball.com a few years ago. They were storing and shipping all the merchandise from their home garage before deciding to open a store in West Richland. Tim Obsorn, says, "These days, brick and mortar stores are having a hard time competing with online." He Osborn says he isn't worried about that. "We didn't want to be a showroom for people just to come into the shop, look at what they needed, then run home and buy from either us online or another competitor company," Osborne explains. He says that's why their prices are the same online and in the store.
With the new business venture, the family decided Red Dot Paintball could be more than just a retailer. They've now opened a paintball field in Richland on 43 acres near the ORV Park out by Horn Rapids.
Harley Grinder, field manager and gun tech for Red Dot, says, there was a paintball field in West Richland, but it closed down years ago. He isn't sure exactly why it closed, but explains, "We've been without paintball for a couple of years, so the paintball community in the Tri-Cities has had to travel either to Spokane, Yakima, or Lewiston."
Grinder says Red Dot's set up is much more in depth, now with different types of fields including tournament and scenario. They also have an outdoor laser tag area.
Jonathan Rivas is one of the referees and a longtime paintball enthusiast. He says, "Just looking at the set up, it's like 'Wow, that's amazing!' All the room we have, to the possibilities of all the fields." Another longtime paintball player, Griffan Spanner, says, "I was pretty ecstatic when I found out. So I rounded up the rest of my stuff and headed out here."
Red Dot hopes to expand the field, adding in an area for air soft guns soon. Click here for more information.