Housing for sex offenders
Posted:
Updated: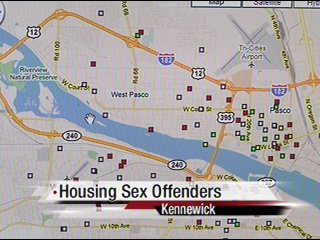 Today we're talking about a group of convicted criminals who say they don't get a second chance like a lot of others...registered sex offenders.
There are few places in the Tri-Cities that are open to housing them.
We can tell you that the housing manager didn't start out thinking he'd be helping registered offenders. The ministry "Steel Against Steel" first opened a home in Kennewick 6 years ago to help people assimilate back into society after they had fallen on tough times. Now it has grown into much more.
There are many Tri-Cities maps that show over a hundred dots representing all levels of sex offenders. They don't paint a pretty picture, and neither does the man we interviewed, a level two sex offender himself. He goes by Ron.
"When I got out of prison I was not in a good state," Ron said. "I went in when I was 24, I got out when I was 31 and no one ever helped me. I lived on the street, ate out of garbage cans, did what I had to do to survive."
Ron and five other sex offenders live in the rented out home and get counseling by Church on The Way. It's one of the few places open to them in the Tri-Cities.
"Without this, where would you guys be living?" We asked. "I'd still be under a bridge. I'd be homeless," Ron replied.
Today his housing manager Roger Reiboldt goes over a set of chores, something each person living here must complete. He says he didn't open the home years ago with the idea of helping offenders, but over the years, he found his way here.
"Suddenly along came a branch of people that were from the element of the world I wouldn't say are the upper echelon of society and in that I realized there was a real need," Reiboldt said.
Roger says for the men who were once homeless and struggling, they are now offered help.
"We're changed lives that aren't going back to drugs and aren't making silly decisions and aren't dominated by drugs in the culture."
The housing manager says they hope to purchase another home and even open another to women offenders further down the road. The whole idea, he reminded us, was to change lives and help our area.