Local Egyptians react to Muburak resignation
Posted:
Updated: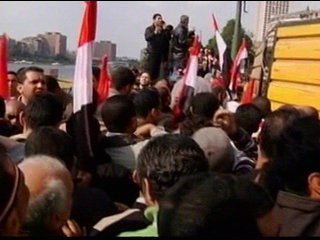 WEST RICHLAND, Wash. -- Local Egyptians here at the Islamic center of the Tri-Cities offer their own opinions on the sudden resignation of Egyptian President Hosni Muburak.
"The most unbelievable event of my life time," says Alaa Aly, a Native Egyptian. These are just some of the reactions being shared today by native Egyptians who came for daily prayer at the Islamic center of the Tri-Cities.
A day after defiantly refusing to step down as president, Hosni Mubarak announced his resignation. The news created massive celebrations in the streets of the country.
"Actually I called just almost all of family this morning, everybody is way happy and people are cheering in the streets and their homes and they just cannot believe it is happening," says Egyptian native Hassan Ziada.
Protest gripped the country for weeks as people fed up with the 30 year reign of their president demanded he step down. Many cited poverty, corruption, and brutality by the hands of the government as reasons for his need to leave.
"People were always scared that, nothing would really change and personal losses would be huge," says Tamer El Sammak, another Egyptian who moved to America after living in other countries for years after leaving Egypt.
While the celebrations continue, many are now looking towards the future hopeful that today turns the page on years of neglect for the people.
"It's a happy day in our country, it's a happy day in our history. I will remember this day until I die," explains Aly.
While it's unclear who the next president of Egypt will be, most people at the Islamic center are optimistic that it will mean a new future, brighter and better for the people and country that they love.