Touchstone Jewelers opens for business as cops investigate similar cases
Posted:
Updated: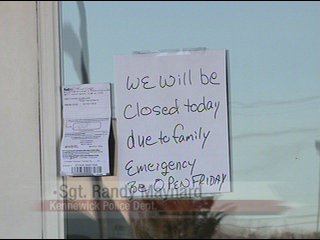 KENNEWICK, Wash. - Kennewick Police are looking into similarities between Wednesday's armed robbery and the one that took place at First Choice Pawn in Wapato as well some similar ones in Oregon.
Wednesday, three armed men dressed as construction workers knocked on the door of the Welsh family on the 65-hundred block of 15th Avenue in Kennewick. They barged in and tied up Mrs. Welsh, his two daughters and grandson. Once Mark Welsh came home, some of the crooks forced him to go back to Touchstone Jewelers in Kennewick where they robbed the store.
Chief Detective Stew Graham from the Yakima County Sheriff's Office says that's exactly what happened to the owner of First Choice Pawn on January 11th. In both cases, the crooks then dropped off the owners back at home and took off with their vehicles and the merchandise.
Police later found those vehicles abandoned in both cases.
"We don't have any leads in our incident. We will talk with investigators in Kennewick and see if they might be able to provide us with some information we didn't already have that would assist in identifying some suspects," says Graham.
"We are trying to coordinate a meeting for early next week to sit down and actually look at their case and our case," says Sgt. Randy Maynard with Kennewick Police.
Mark Welsh was back at work Friday. He says the community support has been really great. He had calls from all the jeerer stores and suppliers asking to be of any help.
"After we heard about this we were a little bit scared and a little bit nervous," says Van Nguyen of Van's Jeweler in Kennewick.
Van says his store on Kennewick Avenue and his home both have security cameras because of the nature of the business.
Welsh says cameras would not be helpful since the men were masked during the robbery.
Crimestoppers is offering a reward up to $10,000 in the Wapato robbery and a reward up to $1,000 in the Kennewick case. If you have any information, call them at (509)586-TIPS.