Fire victims return to see destroyed homes in White Swan
Posted:
Updated: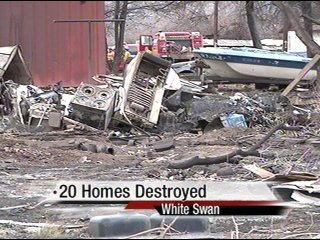 WHITE SWAN, Wash. – Fire victims had their first chance to return to their homes Sunday and see what was left after a combination of flames and strong winds destroyed 20 homes and damaged many more buildings.
Crews opened up roads this afternoon allowing many of the families living on Signal Peak Road and W. White Swan Road to see whether their house made it through the fire.
The Yakima Valley chapter of the American Red Cross opened up a shelter at Harrah Elementary Saturday and hosted 40 people. The next morning, only four people were still staying at the shelter. Many victims found relatives and friends to stay with by the next day.
Cody Tusler helped to setup the shelter for the Red Cross. He says support from the public has made a huge difference in helping families.
"It's just nice to see the community come together and help the people in need and that's why we're a part of this," he said. "To make sure we're doing the right thing for our community."
Red Cross staff planned to keep the shelter open into Sunday evening. The public can make food and clothing donations at the Toppenish Winter Lodge, the Trading Post in White Swan, the Top Stop in Toppenish, and EZ Bucks locations in Wapato and Toppenish. Cash donations can be made through the Red Cross office in Yakima.
The fire ended the night on Saturday contained but crews revised that call to 80 percent on Sunday morning to investigate some areas before bringing the estimate back up to 100 percent.
Two of the four hot spots continued to burn on Sunday but crews planned to let both the log pile on Wesley Road and the Haystack on North White Swan Road to burn. It could take up to four days before the log pile is completely out.
"We're done as far as the fire goes but we're still part of the community," said Allen Walker of Yakima County Fire District #5. "We want to maintain that. We're still here for them."
Walker says GPS tracking calculates the fire spread to as much as 230 to 240 acres. The initial cause was a chimney fire that spread to the roof of that home before winds brought it the ground and dry grass. Estimates for the winds on Saturday were as high as 74 miles per hour.