Supercomputer vs man on Jeopardy and here in Richland
Posted:
Updated: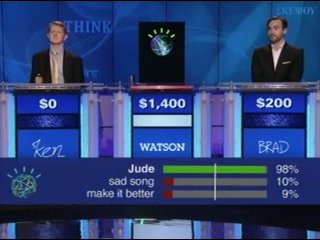 RICHLAND, Wash. -- Jeopardy will pit Man vs. Machine on Monday's episode to show how successful scientists are in creating a computer that can mimic human intelligence.
Two of the show's most successful players, Ken Jennings and Brad Rutter will play two games against "Watson," a computer program developed by IBM's artificial intelligence team. The matches will be spread over three days that will air Feb 14-16.
The "Jeopardy" answer and question format is a different kind of challenge. It often requires contestants to deal with subtleties, puns and riddles and come up with answers fast.
"Its a database with a lot of information, all the books, all the movies, all the newspaper articles, but it needs to understand what it needs to look for. Understanding what to look for , how to understand the questions is the real crux of the matter," says Bert deJong, the Chief Computer Scientist at EMSL, the Environmental Molecular Sciences Building, which is part of Pacific Northwest Laboratories, a Department of Energy Facility.
DeJong says EMSL has it's own supercomputer, Chinook, which instead of Jeopardy questions, works to solve scientific problems for university students and those who need the equipment. He says people come from all over the world to use our Richland facilities.
Chinook is a $24-million HP supercomputer cluster and is available to researchers at EMSL.
Through a peer-reviewed proposal process, researchers from around the world can access Chinook in combination with other state-of-the-art instruments housed at EMSL, such as microscopy, mass spectrometry, nuclear magnetic resonance spectroscopy, and subsurface flow and transport capabilities.
deJong says, "I have to say Watson, the supercomputer is not too different from our supercomputer. And it's not the hardware that's really the interesting part. It's the software that they had developed. You could run probably that software on this computer and put all the data that they have on the Watson computer in here and do the same thing."
Chinook is helping EMSL users advance research in areas such as aerosol formation, bioremediation, catalysis, climate change, hydrogen storage, and subsurface science to support DOE's missions in energy and environment.
Chinook has163-teraflops of peak performance, meaning it is about 163,000 personal computers put together.
"When combined with EMSL's experimental capabilities, the new Chinook supercomputer will provide scientists from academia, national laboratories, and industry with an unprecedented research tool," said Anna Palmisano, DOE associate director for Biological and Environmental Research. "This new supercomputer will allow scientists to develop a molecular-level understanding of the complex biological, chemical and physical processes that underlie the environmental and energy challenges facing DOE and the nation."
Chinook is fast and dexterous. Its designers tailored its architecture to handle scientific problems whose complexity require more than just power or speed. For example, climate scientists who are trying to understand the tiniest particles in the atmosphere or chemists watching how atoms tug at each other in a molecule need a different kind of supercomputer than physicists studying questions like the birth of the universe.
Chinook's top job is to run NWChem, a computational chemistry program that allows researchers to simulate and predict the chemistry within and between molecules. But a wide variety of programs can run on the supercomputer.