Firefighters stand up for Union Gap fire chief
Posted:
Updated: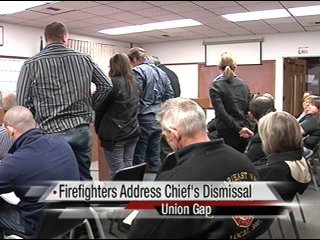 UNION GAP, Wash. -- Questions continue to loom over the firing of the Union Gap fire chief last week.
It was "business and usual" during Monday night's city council meeting, even on Valentine's Day. At least until the council began their public comments portion of the meeting.
Volunteer Firefighter Lt. Jack Henderson, Union Gap Fire Department, along with several volunteer firefighters, got up from their seats and stood in front of the city council to protest the recent dismissal of Bill Steele, former fire chief.
Hoping for a change of heart from the city, the volunteers were met with silence from council members.
While the council approved motions to move forward with discussions on fees to help the local tourism and increase on water rates, they would not discuss any city personnel issues.
"My frustration came out at the end of the meeting, but I've since talked to all of them and thought that there may be something to their silence. And the possibility of getting the city manager to temper the difficulties with the mayor, I think is a good idea," Henderson said.
Henderson says the department has about 15 active, volunteer firefighters. He credits Steele for training and keeping volunteer firefighters. Some of the Union Gap volunteers assisted other fire agencies at the fire in White Swan over the weekend.
It's still unclear as to why Mayor Jim Lemon fired the chief of two years. The mayor was not present at Monday night's meeting, and he did not return any of our phone calls that night.
Henderson says the volunteers had planned to hand in their fire equipment in protest, but respectfully changed their minds after talking with Steele.
In the meantime, Union Gap Police Chief Robert Almeida will continue on as the interim fire chief until a new one is hired.
The city council Monday approved several resolutions for the mayor to adopt, including the Reservoir Adoption Ordinance, and the Interlocal Agreement between the City of Union Gap and City of Wapato, over the use of inmate workers. The council also moved to adopt the 2011 Budget to create an administrative secretary position for the city.