High winds flip over mobile home
Posted:
Updated: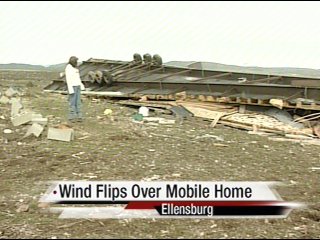 ELLENSBURG, Wash. -- An Ellensburg woman is picking up the pieces of what remains of her home, after strong winds knocked it over this weekend.
It happened around 3:00 p.m. Saturday up on the high hills off of Burbank Creek Road.
Homeowner, Chelsea Sheep looked out of the window of her RV after hearing a loud crashing sound outside.
Her mobile home was left with its wheels up and its contents spilled across the 20-acre property.
Sheep showed KNDO the damage Wednesday. Luckily, no one was inside.
She's been living inside her small camper since she purchased the home and property back in July. During that time, she's been finishing work on the inside of her mobile home.
"Did a lot of work on that place. We just go the wood stove put in it. We just go it where I could almost live in it. Now it's down on the ground," Sheep said.
Sheep, who lives alone with her two dogs in a remote part of Kittitas County, credits her neighbors for reaching out and helping her after the incident.
She says she doesn't even have electricity or a mail service at her property.
A spokesperson for the National Weather Service Pendleton Office, confirmed that strong gusts reaching about 50mph did blow through the rocky canyon area on Saturday.
Although she plans to rebuild her home, Sheep understands it could take some time and would welcome any outside help. If you would like to help Chelsea, you can reach her by mail at PO Box 1301, Selah, WA 98942 or call her directly at (509) 833-6045.