Western Upsets Central, 66-62
Posted:
Updated: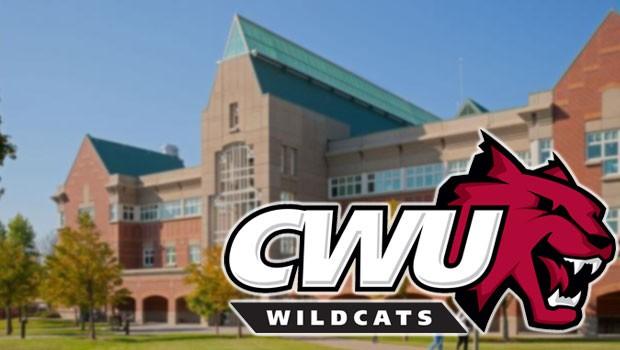 BELLINGHAM, Wash. -- The Central Washington University men's basketball team shot well below its season average in all three shooting categories in falling to rival Western Washington University, 66-62, on Wednesday night at Sam Carver Gymnasium.

The loss snapped an 11-game winning streak for the ninth-ranked Wildcats (20-3, 13-2 Great Northwest Athletic Conference). Meanwhile, the host Vikings remained undefeated at home this season and improved to 16-7 overall and 11-4 in GNAC play.

Central, ranked first in the NCAA Division II West Region, missed out on an opportunity to clinch the number one seed for the conference tournament with Wednesday's loss. The Wildcats still lead Western Washington by 2 1/2 games and have a three-game lead over Alaska Anchorage.

The Wildcats, who came into Wednesday's game shooting 48.5 percent overall and 36.5 percent from three-point range this season, struggled against the Vikings in front of a near-capacity crowd of 2,410 in Bellingham. Central shot just 33.8 percent overall and was just 2 of 19 from three-point range -- the team's lowest three-point percentage (10.5) in a game in more than seven years. The Wildcats also shot just 53.8 percent at the free throw line on 14 of 26, as they were outscored by three at the charity stripe by a Viking team that converted on 17 of 25.

In a game that had four ties and 16 lead changes, neither team wanted to seize control in the first half. Central's largest lead of the game was a three-point edge in the first half, and the Wildcats led by one at the intermission following a buzzer-beating alley-oop dunk from senior Chris Scott (Las Vegas, Nev./Bonanza HS) to senior Chris Sprinker (Tacoma, Wash./Curtis HS).

Western Washington started the second half on a 13-2 run and took a 10-point lead at the 16:14 mark. The Vikings led the rest of the way -- with the exception of a 57-57 tie with 2:34 left -- including an 11-point lead with 11:54 to go. CWU senior Jamar Berry (Tacoma, Wash./Franklin Pierce HS), who scored a game-high 20 points, hit the Wildcats' lone three-pointer of the second half on the next possession after the 11-point deficit, and Central gradually chipped away.

Central closed to within one at the 5:19 mark after a three-point play by Sprinker, but Western responded with a slam dunk by Rory Blanche in the closing seconds of the shot clock on its next possession and the Wildcats missed four of their next six free throws and were never able to regain the lead.

Following the game's fourth and final tie, Western Washington scored the next five points, as Central went scoreless for a span of 2:13. Junior Jody Johnson (Seattle, Wash./Franklin HS), the team's top free throw shooter at 87.0 percent on the year, made just one of two with 21 seconds left but Berry got a putback to make it a two-point game. After two John Allen free throws, Johnson converted a layup with five ticks left, but the Vikings' Michael Duty iced the game with two free throws with 3.6 seconds left.

Central won the defensive battle between the two schools by forcing 23 turnovers while committing just 10, and the Wildcats had five blocked shots. However, Central, which played without senior Coby Gibler (Bainbridge Island, Wash./Bainbridge HS), who was sidelined due to illness, was outrebounded by a 46-34 margin.

Berry, Sprinker, and Johnson, the Wildcats' top three scorers on the year, accounted for 44 of Central's 62 points but did so on 16 of 42 shooting (38.1 percent). Johnson was just 2 of 11 from the field but finished with a team-high 10 rebounds and had three assists without a turnover. Berry was 8 of 20 shooting and Sprinker finished 6 of 11 but was 7 of 11 at the foul line en route to 19 points. No other Wildcat had more than six points.

Western had three players in double figured, led by Allen with 18. Duty added 17 points and eight rebounds, making 6 of 7 shot attempts, while Blanche had a double-double of 13 points and 12 rebounds.

The Wildcats will play their final road game of the 2010-11 regular season on Saturday night at Simon Fraser. Their magic number to clinch the GNAC regular-season title and the number one seed for the conference tournament remains two with three games left. CWU will next play inside Nicholson Pavilion next Tuesday (Feb. 22) versus Saint Martin's.
COLLEGE MEN'S BASKETBALL
WEST REGION
NCAA DIVISION II/GREAT NORTHWEST ATHLETIC CONFERENCE
Western Washington 66, #9 Central Washington 62
CENTRAL WASHINGTON (20-3, 13-2 GNAC) -- Berry,Jamar 8-20 3-4 20; Sprinker,Chris 6-11 7-11 19; Harris,Drew 1-5 3-6 6; Clyde,Roby 3-4 0-0 6; Johnson,Jody 2-11 1-2 5; Perez,Humberto 1-7 0-0 2; Nelson,Ted 1-2 0-0 2; Scott,Chris 1-8 0-3 2. Totals 23-68 14-26 62.
WESTERN WASHINGTON (16-7, 11-4 GNAC) -- Allen,John 6-12 4-4 18; Duty,Michael 6-7 3-4 17; Blanche,Rory 5-9 3-6 13; Henifin,Zach 3-8 3-5 9; Nelson,Shedrick 1-5 2-4 4; Mitchell,Chris 1-3 0-0 3; Thorpe,Dane 0-1 2-2 2; Wiederkehr,Anthony 0-0 0-0 0; Dickerson,Derek 0-1 0-0 0; Young,Dan 0-3 0-0 0. Totals 22-49 17-25 66.
Halftime--Central Washington 31, Western Washington 30. 3-point goals--Central Washington 2-19 (Berry,Jamar 1-5; Harris,Drew 1-3; Johnson,Jody 0-2; Perez,Humberto 0-4; Scott,Chris 0-5), Western Washington 5-14 (Allen,John 2-5; Duty,Michael 2-2; Mitchell,Chris 1-2; Nelson,Shedrick 0-1; Thorpe,Dane 0-1; Henifin,Zach 0-3). Fouled out--Central Washington-None, Western Washington-Henifin,Zach. Rebounds--Central Washington 34 (Johnson,Jody 10), Western Washington 46 (Blanche,Rory 12). Assists--Central Washington 9 (Johnson,Jody 3; Harris,Drew 3), Western Washington 11 (Allen,John 4). Total fouls--Central Washington 20, Western Washington 21. Technical fouls--Central Washington-Perez,Humberto, Western Washington-Allen,John. Att--2410.
Great Northwest Athletic Conference game
NABC/Division II Rankings: CWU (#9), WWU (NR)