Yakama Nation asking for government help for White Swan fire
Posted:
Updated: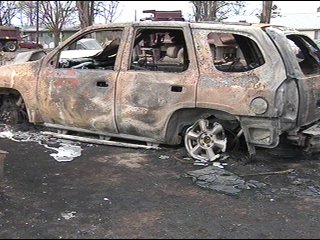 After 100 people were uprooted from their homes in White Swan because of Saturday's devastating fire, the Yakama Nation is asking the government for assistance.
Yakama Nation leaders say 20 homes have been declared destroyed, but a dozen more have been severely damaged as well.
They say it's time to stretch beyond our area for one of the worst fire disasters on an Indian Reservation in recent history.
In an open letter, the Yakama Tribal Council Chairman wrote of the need for outside help from the United States and other governments to care for the people displaced and for the cleanup in White Swan.
Yakama Nation leaders say there's still a long way to go to get people the help they need.
"We're still assessing the damage out there. Not only the physical damage to the structures, but these individuals are going to need some counseling," Yakama Nation's Mathew Tomaskin said.
The Yakama Nation has been in a State of Emergency since the fire began, and leaders say the cost of rebuilding is around $4 million.
The Tribal Council Chairman is also asking for skilled volunteers who can assist with cleanup, including certified asbestos remediation experts, contractors and heavy equipment operators.
If you would like to donate, the Yakama Nation has set up the following ways for people to contribute:
* The White Swan Fire Relief Fund at Bank of America, with donations accepted at branches nationwide.
* Toppenish Armory, 326 S. Division St., Toppenish, WA 98948
* Mailed donations: Yakama Nation CFO Henry Roy, P.O. Box 151, Toppenish, WA 98948