Cooks for White Swan victims in need of meat donations
Posted:
Updated: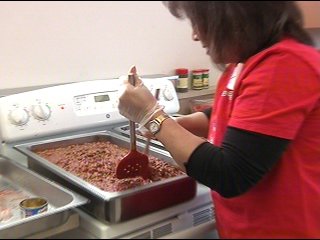 Toppenish, WA- It's been five days since the disaster in White Swan left over 60 people in need of food, shelter and clothing. Donations continue to pour in but there's a key item they're running out of fast.
The leaders of Home Word World Outreach are no strangers to disaster. They racked up experience cooking for displaced people during hurricanes Katrina and Rita, and the Haiti earthquake.
For the last four days Reverend Diep Miller and her team of volunteers have been feeding 60-140 people a day at the Toppenish Armory. The shelves are filled with canned food, but they are committed to proving a hot lunch and dinner every day, which is beginning to be a problem.
"…last couple of days we really desperate for some meat, pork, chicken, beef", worries Miller.
Today enough donations pounds of meet donations came in but between the armory and the white swan food bank, reverend miller says they will probably only last the week. In her opinion, meat is essential to being able to provide the victims with balanced meals that do more than nourish the body.
"They go through stress so good nutritional hot meals is comfort, comfort measures to help them through", Miller says.
"The meat is very important for the elders, the children, and all the people really. So if the meat can be donated for all the meals to serve, it's going to take a long time for people to get back on their feet", says Floraine Gardee, who has been living in motel since her home was damaged during the fire.
They barely finish serving lunch before it's time to cook dinner. A pork donation that came in Thursday morning is going to allow them to serve a surprise Asian dinner. Miller would only say that it's eaten every year in Vietnam on New Years.
You won't find any just add water meals in that kitchen. The volunteers spend four hours on lunch and four more preparing dinner from scratch. Miller admits they could use more helping hands.
"I am in desperate need for someone able to help cook and the menu is very simple. You cook whatever god sends".