Linda Lusk takes stand in her omnibus hearing
Posted:
Updated: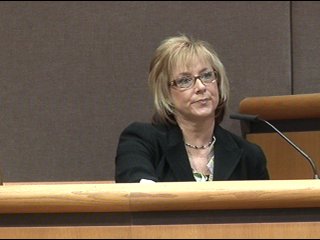 KENNEWICK, Wash. -- Former Prosser Mayor Linda Lusk's omnibus hearing turned into a multi-hour spectacle. Defense Attorney Scott Johnson and Prosecutor Andy Miller spent the hearing arguing and taking personal jabs at one another.
At one point, Scott Johnson asked Judge Runge to be taken off the case as an attorney so he could testify as a witness since he sat in with Lusk during her June 2010 interview with Benton County Sheriff's Office Detectives. Johnson's co-worker, Sal Mendoza waltzed into the court room in case the judge would grant his wish but she denied the motion.
Lusk's husband and both the alleged victim and his grandmother sat in the court room.
The issue at hand is whether Lusk's interview in June should be admissible during trial which is scheduled to start March 7. At this point, the judge postponed the omnibus hearing because Johnson said he wanted an mental health expert to testify and couldn't find the right person yet.
During Thursday's hearing, we learned Lusk admitted to Detective. Lee Cantu and Sgt. Danny McCary in June that she did engage with sexual misconduct with the 14 year old alleged victim. According to Cantu and Lusk, both on the stand today, Lusk admitted to "touching the boy's penis," She did however deny giving him oral sex and asking him to meet her at her store, both allegations the boy says happened.
Lusk says she only agreed to give the interview to detectives with her attorney present because she and Miller had made a plea deal where she would only be charged with one charge, molestation of a child. However, she says she never agreed to plead guilty to that charge or any others.
Miller says, the deal meant he wouldn't tack on any additional charges from new information she would provide. He says Lusk's interview should be admissible in court because all the things she admitted to, they already knew, so that meant she didn't incriminate herself further.
Miller also says, this is a case of miscommunication since he wasn't at the June interview, and both he and Johnson can't agree on what the "plea" deal means.
Both attorneys agree the contract was not properly conducted or documented.
The continuation of the omnibus is set for Tuesday of next week.