Yakima coffee stand owner sentenced
Posted:
Updated: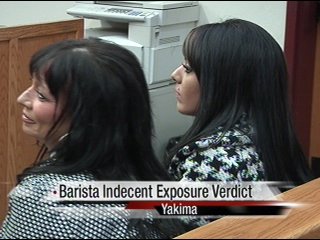 YAKIMA, Wash. -- A Yakima coffee stand owner has been ordered to pay a $1,000 for violating the city's indecent exposure ordinance.
Dream Girls owner Cheryl Clark appeared before Judge Susan Woodard in Yakima Municipal Court Friday.
The judge suspended Clark's 90 day jail time for a period of two years. She was also ordered to pay court filing fees, along with 100 hours of community service to a local nonprofit of her choosing.
The ordinance was put in place by the city council in 2009, after complaints from residents about the increase in what are often referred to as bikini baristas.
Police say Clark's employee Alyssa Herndandez was showing too much of her buttocks while working at the stand in January of last year. Herndandez was acquitted by a jury earlier this month, but Clark was found guilty.
"Obviously, I thought that another sentence was appropriate. From our perspective the judge didn't completely agree with that, but ultimately made her decision and articulated her reasons for that," said Jon Seitz, Prosecuting Attorney for the City of Yakima.
Clark's attorney, Patrick True says he'll encourage his client to appeal the sentencing.
"I didn't see anybody to be benefited from her. The judge imposing any jail time. Obviously I'm happy about that. Overall, we're we, you know, we still feel unhappy with the verdict itself," True said.
In court, the judge allowed Cheryl Clark to give a statement before she was read her sentence. "I do take the law seriously," explained Clark. "Sorry that this whole thing happened. It was not my intent."
Clark has 30 days to appeal her sentencing.