West Valley residents concerned as questions loom over recent murders
Posted:
Updated: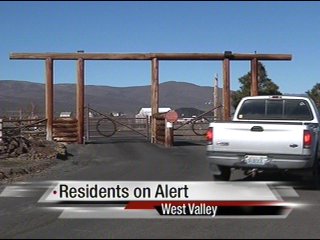 WEST VALLEY, Wash. – The Yakima County Sheriff's Office had yet to determine a motive or any suspects Saturday and that has residents nearby the gated community worried about their safety.
Crime scene investigators have been working with YSO around the clock to determine who killed William Goggin; his wife, Pauline; and his mother, Elizabeth. Their bodies were discovered in their home in the Falcon Ridge neighborhood on Friday.
Megan Saxton lives one mile east of the development and considered buying a home in that community.
"We didn't go home last night, we stayed with my family," she said. "We're just really concerned about what happened and why it happened."
Stewart Graham is YSO's chief of detectives, he expected fieldwork to wrap up at the crime scene by the end of Saturday. He wants reassure the public of any concerns they might have with the reinforcements he called for from the Washington State Patrol.
"That's why we've utilized, I think, the resources that we've gone to," he said. "To give us our best chance at identifying, locating, and apprehending the person or people responsible for this. "
The Falcon Ridge neighborhood advertises a relaxed lifestyle with privacy and security. It's a "fly-in community" or aerodrome with its own terminal runway. There are 10-acre lots within the 800 acres that make up the property.
More details about the victims have been discovered based on information posted online. Mr. Goggin worked for Gray Surveying Engineering and Pauline was an active member of the Yakima Valley Sports Car Club.
A current resident of Falcon Ridge told KNDO over the phone he is having a hard time dealing with this tragedy. He considered the Goggins personal friends. He added that they were wonderful people and a boon to their community. He wants the people behind the crime to be quickly found and prosecuted.
Saxton is anxious to find out what exactly happened but planned to return to her house Saturday night with a more cautious approach.
"We're gonna have to do a little bit more to protect ourselves now 'cause we are really isolated," she said. "But I'm still gonna live out there. "