Land owners dust can lead to hefty fine
Posted:
Updated: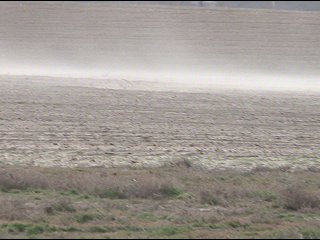 KENNEWICK, Wash. --Strong wind is a problem all by itself. But the dust it kicks up wrecks havoc for homeowners and drivers. "It got pretty bad, well, I could see the dust blowing through," says driver Katie Call.Blinding conditions greeted drivers on I-82 going through Kennewick thanks to the dust.
Several people in this Kennewick neighborhood were blasted with dust outside of their home, and are constantly left with a big cleanup afterwards, just ask Chuck Hammersted, "Well, every time we have a dust storm, it gets to the garage, all of the backyard, it just covers everything you have to sweep it up almost every day even in little breeze and it just gets tiring."
Hammersted reached out to the city of Kennewick for answers and says his calls went nowhere. Others like his neighbor Mike Wise called Benton Clean Air Agency. They deal with complaints regarding dust and have received over a dozen complaints today.
"Sometimes, we're overloaded with complaints. Today we we're able to get out and look at all of the sites and overall, they didn't look too bad. There was some dust movement off of some," explains air quality inspector Rob Rodgers.
According to Rodger, some precautions include spraying water on the ground, spreading wood chips, and hydro mulching. No citations were issued today, but landowners with constant dust complaints can face fines up to $10,000. A first time offender could be looking at a $1,500 to $3,000 ticket.
The Benton Clean Air Agency stress that before issuing out a citation, they send out a proper warning to any landowner where dust tends to be a constant problem.