Where We Live: The lofty life in Tieton
Posted:
Updated: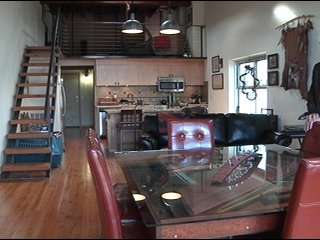 YAKIMA, Wash- Welcome to Tieton. Land of orchards, open spaces…and possibly the chicest homes in Central Washington.
That's right, inside what used to be an apple cannery you can now find 14 two story lofts. Ann and Don Orminski fell in love with the concept when there was nothing but a warehouse to see. And for the last three years they've designed and furnished their unit using local materials in a style don calls character, funk, and practicality.
"It really has allowed us to rekindle our artistic and creative skills and we're back into our art".
Their loft makes a stunning first impression, but the closer you look, the more interesting it gets. The curtains are burlap sacks and Don made the dining room table from a piano.
Medical professionals by day, the Orminskis and their neighbors are artists at heart. They often use common areas of the building for get togethers to share their common passion.
The Orminskis design their own furniture, make their own art, and essentially live in an artist colony here in the lofts. It could be Soho, or Venice Beach, but it's Tieton... Who knew?
All of the units are second homes. But unlike most of the owners who use them as getaways from the Westside, the Orminskis live just 25 minutes down the road in Yakima.
For them, the lofts are a low maintenance, high-reward way of life.
"We call this our land yacht. It's smaller, more compact, and easier to keep clean".
The lofts are the brainchild of Ed Marquand, a Seattle-based art enthusiast who saw potential in Tieton. His Mighty Tieton group focuses on driving art-inspired economic growth in the rural community. The lofts are all sold but he plans to put another on the market this spring, with an eye on a specific type of buyer.
"I really want somebody who can come here and decide to start a commercial kitchen, maybe a destination restaurant, maybe a little inn", says Marquand".
Lofty ideas for a mighty Tieton indeed.