Doc Hastings says lawmakers don't want to see a government shutdown
Posted:
Updated: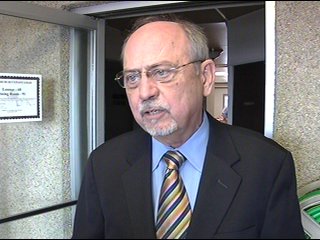 KENNEWICK, Wash. -- Rep. Doc Hastings spoke to the Pasco Kennewick Rotary Wednesday afternoon, and the hot topic was cutting spending in the other Washington.
Senate Democrats rejected Tuesday a House Republican leadership proposal to extend government funding for two weeks past March 4, the date when current, temporary funding expires. There could be a government shutdown if House and Senate don't come up with a solution.
House Republicans want the short-term bill to cut $4 billion in government spending during those two weeks - a prorated figure based on the more than $60 billion in spending cuts the House passed for the rest of this fiscal year.

The Senate's top Democrat said Tuesday he would propose a 30-day extension of government funding at roughly current levels to allow time for negotiations with Republicans on a longer-term spending measure.
Senate Majority Leader Harry Reid, D-Nevada, said he planned to open debate next week on the 30-day spending plan.
The House is likely to vote on the plan next week. Doc Hastings says he hopes to see a solution before March 4th.
"Nobody, nobody, I just want to emphasize that nobody is talking about shutting down the government. All the Senate has to do is pass their spending bill and we'll work out the differences between the two but again the principle is, the American people expect us to cut spending on a federal level," says Hastings.
House Speaker John Boehner, R-Ohio, Senate Majority Leader Harry Reid, D-Nevada, and others met Wednesday to try to hammer out an agreement to pass a short-term bill.
Reid on Tuesday proposed a 30-day extension of government funding at current levels.
With both sides digging in their heels, it's becoming increasingly uncertain if a compromise can be reached in the remaining days to avert a government shutdown.
Doc Hastings also spoke about entitlement measures reform. He says around April, Wisconsin Rep. Paul Ryan will present several reform measures that focus on changing Medicare, Medicaid and Social Security.