Life on the road, living in a R. V.
Posted:
Updated: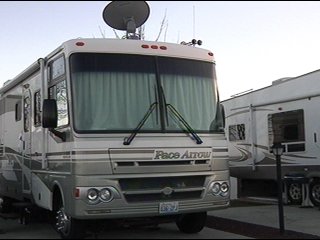 PASCO, Wash. -- For 13 years, Cherie and Rusty Rusthoven have called a 300 square foot R. V. their home. The living room is located in the same place where you drive, the couch doubles as a guest bed, and a card table can fold out for a wider dinner surface.
Living this type of life brings out creativity in what can be used.
Moving across the country and world because of Cherie's husband's career in the military, life in an R. V. was not difficult, "We have lived in apartments, we've lived in big houses, we lived in different countries. We live in Hawaii all across the United States, so moving you never know what you're going to be in next," says Rusthoven.
What came next in the Rusthoven's life was a R. V., "When it came time to retire from Washington D.C., we said what do we have and what do we need,"Perhaps one of the most important questions for anyone considering living in a R. V.
To be successful meant having an important rule,"if you buy something you already had and that included clothes, it's called something in, something out," says Rusthoven.
Living on the road in a R. V. does not leave you with a lot of space, but for Cherie, it's helped her and her husband realize the most important thing, relationships.
"You're not having a separate space and it's wonderful. We really find that we don't need the separate space to be away from each other. We really want to be with each other and you really have to like each other to be in this situation."
Cherie and her husband have been in the Tri-Cities for a year after coming to help their son-in law after he moved. Their R. V. has traveled to places like Charlotte, San Diego and along the famous Route 66.
" We're just going to lay out the map, see what's there, ask the locals, you find the best spots, it's great."
Cherie and her husband will stay in the Tri-Cities for another six months then head for Texas for community service work.