Living in a senior home
Posted:
Updated: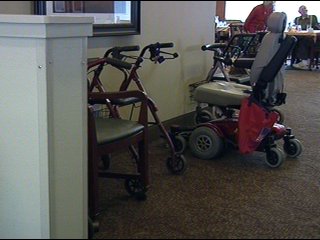 KENNEWICK, Wash.—Hawthorne Court employees say one of the hardest decisions you will have to make will be deciding whether or not you should go into senior living. KNDU looked into what the transition of being a homeowner to living in assisted care has been like for two individuals.
Each person has their own reasons for moving into a senior home. For some it may be for their wife or husband. For others it may be because they can no longer live on their own.
"I could no longer go upstairs," says Lois Stout, senior living resident.
"We had to make a move and we had to sell and that broke our hearts but it was a have to," says Gilbert Brook, senior living resident.
Both say they are happy to live at Hawthorne Court, but it has been a change of living
"I'm probably busier now and I like that," says Stout.
"What can I do here? I can't mow the lawn," says Brook.
Both Stout and Brook have lived in Hawthrone Court for a couple of years. They have their own apartments consisting of a bedroom, kitchen and living room. However, they still say it is very different from owning your own home.
"The freedom of not having to pay bills," says Stout.
"All you have to do it pay once a month and you're home free. If you run out of money then they're going to have to move us out ya know. We're going to be so old we can't move ourselves," says Brook.