Richland home with breathtaking view
Posted:
Updated: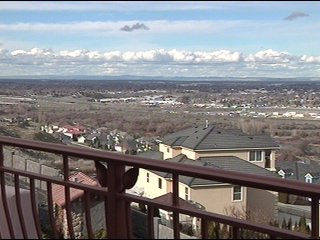 RICHLAND, Wash. - All this week we're profiling the many places people call home.
This next home is over 10,000 square feet and has a view that spans for miles."It takes my breath away every time that I come to look at the view. I've never ever taken it for granted and this is where I spend all my summer evenings and it's breathtaking," said John Heaton, Owner of the Richland home.
The Heatons moved into their dream home in 2005. "One of the favorite times of year to look at the river is in the early fall, when as the weather turns there will be a ribbon of fog up the Yakima River and that's very unique." But, the uniqueness doesn't end there. "I look down often and think about the mouth of the Yakima River here which is as far up the river as any members of the Lewis and Clark Expedition came and to me it's almost a religious moment to look right down there and think there was history being made just a stone throw away." The Lewis and Clark Expedition is just one piece of history that's viewable from the Heaton's vantage point. In fact, a set of binoculars allows them to see a part of our area that has changed the world forever. "I also look out at the Hanford site and think of the history that is there and how it helped win the second world war and I'm very proud of that."
The Heatons say one of their favorite times of year is during the summer because they're able to see fireworks throughout the area and boat races down on the Columbia.